Exponential growth in technology is increasing the speed and power of computing, and consequently increasing the demand for Chief Technology Officers (CTOs) in Australia.  

It's been almost 50 years since Intel founder Gordon Moore observed that the number of transistors on a semi-conductor doubles every two years. Since then, Moore's Law has been extrapolated to imply that many factors of technology are increasing exponentially. 
However, Moore's Law may soon be overtaken by accelerated convergence, which is where exponential technologies interact better and start working together. Imagine artificial intelligence (AI) working off algorithms developed by machine learning, all wrapped around a neural network of deep learning. 
Your job as a CTO is to translate the potential of these exponential technologies into the products and services of an industry-leading business. You could also be strategically planning and leading the information and communications technology (ICT) department. 
The career path to becoming a successful CTO is more linear than exponential, but it does involve an upgrade in salary – and responsibilities.  
Responsibilities of a CTO
The CTO position evolved from a leadership role in traditional research and development (R&D). As technology played an increasing role in R&D, the CTO was responsible for translating tech talk for executives. 
The increase of technology in business has unshackled the CTO role from purely R&D settings to become more of a strategic leader of Information Technology (IT) use within organisations. 
Today's CTO is just as likely to be guiding a unicorn tech disruptor as leading the IT department of a bluestone institution. 
Strategic planning for the use of technology
Just when the ink was drying on their Bring Your Own Device (BYOD) policies, CTOs learned with the rest of the world that working-from-home was the new normal – followed shortly after by hybrid work arrangements. This shows that it's not only important to be able to develop a technology strategy, but to be able to manage it in a rapidly changing world. 
In addition to these challenges, CTOs must be able to manage information security, cyber security and ethical data use considerations in their strategic plans to use technology effectively in their organisations. 
Manage research and development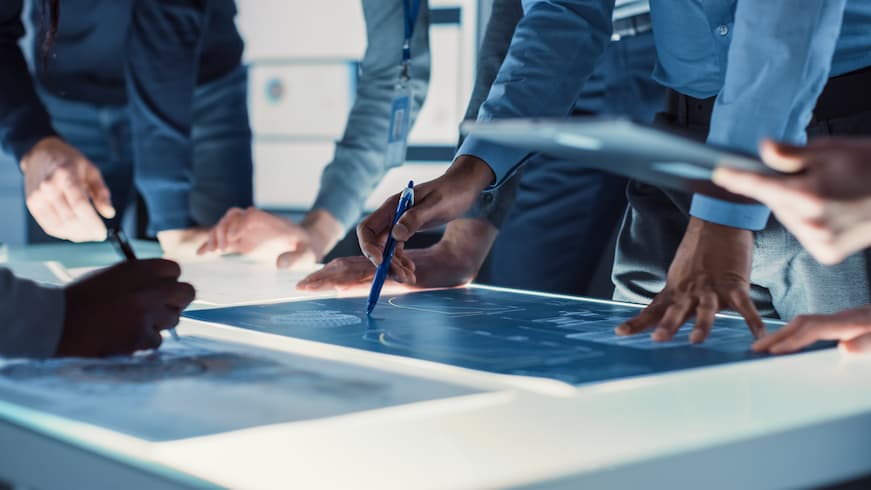 R&D can mean different things in a CTO role.  
In a start-up tech disruptor, R&D may involve the writing, testing and refinement of original code for product development. 
In a business leadership role, R&D could be more focused on selecting infrastructure, software as a service (SaaS) or technology partnerships that best suit the business. 
Communication link between stakeholders and technology
Daniel Szmandiuk is a UTS graduate with over 20 years of experience in IT, specialising in networking, cloud technologies, virtualisation and Wintel. 
However, as CTO, it's Szmandiuk's ability to analyse complex IT situations quickly and provide clear and understandable professional advice that sets him apart. Communication skills like this are essential for assisting stakeholders in technology-related decision-making. 
Monitor new technologies and trends
Whether you're at the bleeding edge of R&D or overseeing the information systems of an organisation, it's essential to stay on top of emerging technologies. 
It might be hackers looking for unpatched software or competing tech disrupters seeking a competitive edge. Both are hoping you haven't got your finger on the light emitting diode (LED) of technology trends and developments. 
Ensure ethical and regulatory compliance
CTOs have a dual role to play when it comes to ensuring ethical and regulatory compliance. 
At a macro level, the business must comply with legal requirements around usage of personal data, management of business data and application of third-party code. 
At a micro level the CTO has a role as mentor to team members, to ensure they understand their personal responsibilities around ethical and regulatory compliance. 
Steps to becoming a CTO in Australia
Australian TV station SBS recently appointed a CTO who arrived at the role via an interesting route.  
Darren Farnham spent a couple of decades as a manager of television operations before moving into a broader role as head of technology operations and services. On the departure of a more traditional CTO, Farnham acted in the role for half a year before winning the recruitment search. 
Whether your career path is following a similar trajectory or another route altogether, these are the steps you can take to speed up the drive on your roadmap to become a CTO in Australia. 
Step1: Complete a bachelor's degree
Choosing a bachelor's degree is a little bit like choosing an operating system.  
Some undergraduate degrees come with their own ecosystem like Apple's OS. A good example of this is the Bachelor of Engineering, which will set you up for a number of engineering postgraduate degrees as well as membership of engineering industry bodies. 
You might like a little more customisation in your degree and the opportunity to work with third parties – such as the Windows operating system. A Bachelor of Science gives you a few more options to align your studies with your area of interest. 
If you're a computing purist, you might go for something a bit closer to the Unix-like open-source operating system Linux. With a Bachelor of Information Technology, you'll definitely develop the ability to write your own source code for your chosen career. 
Whichever bachelor's degree you choose, like all of these operating systems, it can be upgraded. 
Step 2: Gain industry experience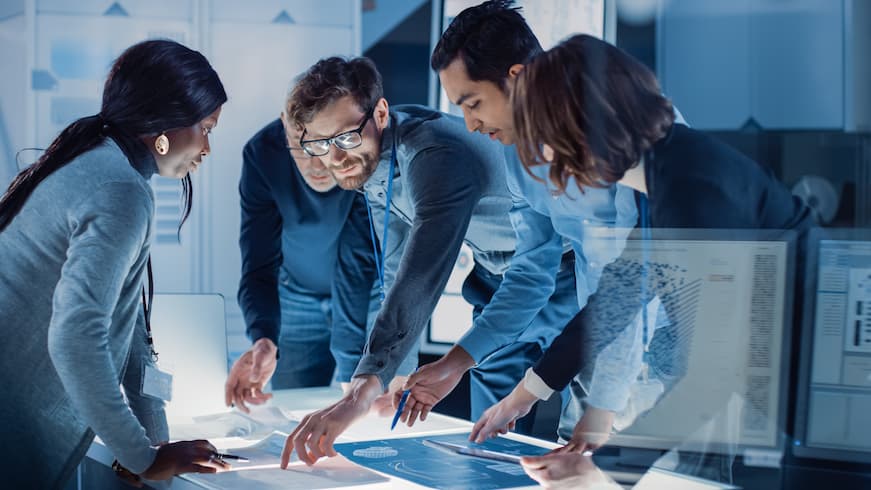 Dennis Williams is the CTO of Loke, a global business that makes white-labelled ordering apps for the hospitality industry. He's also a graduate of UTS with over 20 years' industry experience. 
As you'd expect from an IT professional, Williams describes his work history through coding languages rather than job titles. Remembering early PHP and C# make him misty-eyed, while he still recalls the pain of getting his code to work consistently across browsers – something Internet Explorer 6 did not make easy. 
Now that he's CTO, Williams is less hands-on than he used to be, but still keeps up with Java and React Native, which sit behind the Loke apps. 
According to his LinkedIn profile, Williams has, "worked on projects as a member of a team, the leader of a team, as the sole developer, in a company, as a contractor and freelancer, with people overseas and in the same room." 
Step 3: Complete a master's course
With a bachelor's degree and some industry experience under your belt, you need a master's degree that will upgrade your mid-level IT role to C-suite professional. 
The UTS Online Executive Master of Technology Management has been designed in collaboration with industry experts to upgrade your career in line with broad technology trends. 
You can choose to specialise in enterprise technology, artificial intelligence or cyber security. And if you've spent more time wrangling code than people, you can work on your communication skills, leadership skills and management skills with subjects like 'Leading Organisational Change' and 'Technology and Innovation Management'. 
CTO spotlight
Adam Selwood is the CTO of Cynch Security, a start-up he co-founded after years of industry experience in large organisations. 
Selwood started his career in a rapidly growing organisation that fast-tracked his development. He successfully put that experience to the test in his next role as a solutions and security architect with Australia Post.  

"At Australia Post, I worked on an internal innovation initiative looking into the cybersecurity challenges small businesses face. While my technical background certainly came in handy, the clear need outside of large businesses (and large budgets) was not more complicated tech, but more clarity around how to access and apply solutions that already exist," he says.  

"Cynch was born to solve this problem and to make cybersecurity management for small businesses straightforward and accessible. With cyber crime moving ten times faster than the people scrambling to keep businesses safe, finding a way to balance the benefits of technology against the associated risks is a challenge every business will need to navigate in the foreseeable future."
Skills required for a CTO
Combining technology and management demands a combination of skills that are often found in two individuals rather than one. 
While having exceptional skills in computer science is a good base to start from, so is a strong background in business and administration.  
Whether you come from the computing or the corporate side, these are the top five skills you need in your skill set to commence your career path to CTO. 
Translation
According to Selwood, one of the key responsibilities of a CTO is to be a communication link between stakeholders and technology. 
"If you can't explain the reason for a technology, you'll have a hard time getting resources allocated to make it a reality," he says. 
"Equally, if you can't explain to technical team members the business and human constraints associated with an initiative, you'll quickly end up with something unusable." 
Computers and electronics
You might think that by the time you became a Group CTO overseeing the technology strategy developed by other CTOs, you might become a bit less interested in the machines that go ping. That's certainly not the case for American CTO Thomas Caldwell. 
"I continuously retool myself on APIs, software stacks, cloud computing, cybersecurity and IoT. I also do the same in network operations, security operations, and vertical markets such as retail and financial services," Caldwell tells Forbes. 
Speaking from his own career journey, Caldwell recommends continuous learning about computers and electronics. He says to have fun while doing so, ensuring you're not only a wealth of knowledge but also an inspiration to others. 
Prioritisation
Selwood reveals one of his secrets to success is knowing where to allocate limited resources to get the most bang for your clock-ticking buck. 
"While time management is important, as a CTO there is never enough of it, so it quickly becomes far more important to be good at prioritising." 
Administration and management
CTOs need to be as comfortable with accounting reports, strategic plans and board meetings as they are with Cascading Style Sheets (or any other coding language). 
However, the CTO's role isn't just about mastering corporate lingo or management speak. It's about aligning technologies and business objectives in an efficient way that creates value and promotes continuous innovation. 
This is a skill you can develop in our online Executive Master of Technology Management with the class 'Aligning Business and Technology'. You'll master the technique of using technology know-how to pitch solutions that improve agility and operational efficiencies.

Patience
Selwood highlights the importance of developing your soft skill set for the CTO's managerial role. Soft skills can be learned, but it can take some perseverance to master them – especially patience. 
"I often have to remind myself to be patient as it takes time to get things right, or at least good enough," he says. 
"This is a hard one to balance when you also need to maintain genuine urgency in a start-up environment." 
Common questions about a CTO
It's pretty clear that the formula for becoming a CTO is the right qualification, multiplied by some industry experience, plus exceptional soft skills. 
But that doesn't answer all of the common questions about a CTO.  
How much does a CTO earn?
According to Seek.com the most common CTO salary is above $200,000. 
How to advance your IT career
A study of chief executives from companies listed on the ASX200 found that they reached the C-suite 3.5 years earlier if they held a postgraduate qualification.  
Given that CTOs breathe the same senior executive air as CEOs, it's reasonable to deduce that the right degree will advance your IT career in the same way. 
The online Executive Master of Technology Management isn't just the right degree to put you on track for the CTO role, it's the degree you can study when you want, where you want, while you continue to work. 
Moore's Law observed exponential growth in technology every two years, but you don't have to wait that long to see exponential change in your IT career – this postgraduate degree can be completed in as little as 16 months.  
To learn more about the online Executive Master of Technology Management, get in touch with our Enrolment Advisors on 1300 477 423.