A career in public health: myths and misconceptions
How many people could name a public health professional before 2020? Ask anybody today and they're likely to recall Chief Health Officers Kerry Chant in New South Wales, Brett Sutton in Victoria or Jeannette Young in Queensland.
At press conferences around Australia, state premiers would announce COVID-19 restrictions, then pass the microphone to their Chief Medical Officer to explain the details. As the pandemic spread across the globe, public health officials in many countries, states and cities have experienced more and more time in the public spotlight.
"The Covid-19 pandemic has really elevated the profile of public health," says Professor David Sibbritt, Head of the School of Public Health at UTS.
"Public health professionals are playing a crucial role in reducing the number of Covid-19 infections – which decreases the burden on the health care system – by tracking the spread of the disease, data modelling to predict case numbers, screening and testing, contact tracing, and providing guidelines for people in spaces such as workplaces, schools and public transport."
While the timing and future of the COVID-19 pandemic is uncertain, one thing we do know is that public health and the role it plays in community confidence will increase in priority.
"With the rollout of vaccines, public health professionals will play a key role in the monitoring of the rollout to assess the effectiveness of the vaccines and identify adverse events," says Professor Sibbritt.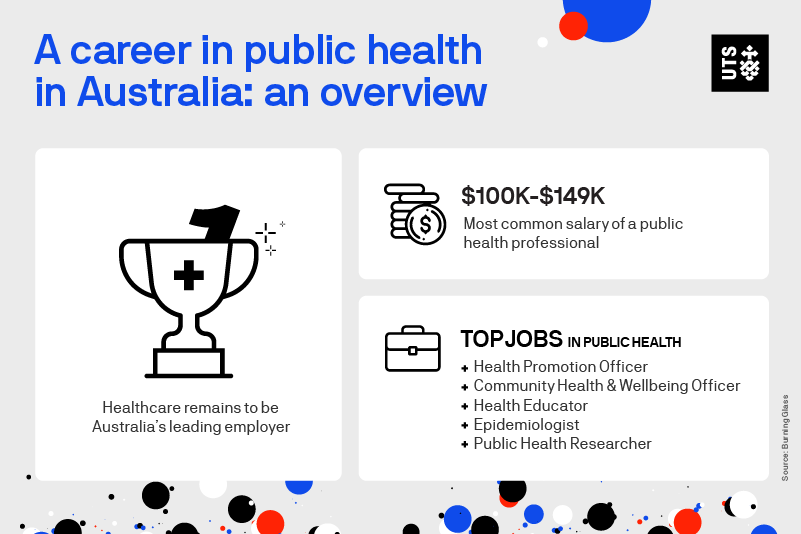 Careers in public health are as diverse as the people who choose them
Dr Fauci is the Chief Medical Advisor to the US President. He's also a physician-scientist and an epidemiologist who has single-handedly busted any myths about public health being a low-profile career.
After completing his medical residency, Dr Fauci worked on disease prevention through an infectious diseases laboratory before taking on roles with government.
Unlike Dr Fauci, Tracy Daszkiewicz didn't come to public health from a traditional medical background. Daszkiewicz was the Director of Public Health and Safety for the county of Wiltshire in England when Sergei and Yulia Skripal were poisoned with Novichok in Salisbury in 2018. 
After starting her career as a health clinic receptionist, Daszkiewicz played a leading role in the health department's response to the poisoning. In the TV adaptation of the events, her character can be seen advising police and the military on the shutdown of Salisbury for public safety.
Neither Dr Fauci or Daszkiwicz consults directly with patients, nor do they work in a clinical setting. As public health professionals they work in an area that is expanding with a wide variety of jobs, filled by people from more and more diverse backgrounds.
If you're considering a career in public health, let's bust five more myths about public health from the get-go.
Myth 1: A career in public health involves caring for patients
Health Promotion Officer is one of many public health roles that doesn't involve caring for patients. Instead, Health Promotion Officers improve the health of individuals and communities by raising awareness of healthy lifestyles, delivering health education and advocating on issues relating to health.
With a high level of job satisfaction, jobs for Health Promotion Officers are expected to increase by more than 11 per cent over the next five years. The most common salary for Health Promotion Officers in Australia is around $70,000.
Natalie Cavallaro is a Health Promotion Officer with Family Planning Victoria – an organisation that focuses on reproductive and sexual health care, education and advocacy. 
As part of her health educator role, Cavallaro recently attended Melbourne's first Sextech Hackathon. It was two days of innovative collaboration to explore solutions for sexual health issues that capitalise on technology.
While her work doesn't involve caring for patients, as a Health Promotion Officer, Cavallaro was seeking a solution for equitable accessibility to safer sex products and an educational public health program to reach all members of society.
"I think we're never going to achieve better health outcomes until we're talking about the needs of all people who will access those health services," Cavallaro explained to The Sydney Morning Herald.
Myth 2: The most important public health skills are practical/clinical
Practical and clinical skills can inform a public health career, but they aren't necessarily the most important skills for a public health professional. In fact, in many roles, practical and clinical skills are not required at all.
These are some of the key skills you'll need for a successful public health career.
Public health foundations
Public health is an interdisciplinary field of healthcare that aims to improve the quality of life by enabling individuals and communities to make informed choices.
"A public health career requires one's devotion to serving the community and to maximising its health," says Professor Sibbritt.
You'll often rely on an understanding of the history of public health and its key approaches as well as the contemporary issues that impact the health of individuals and communities.
Analytics and big data
The importance of data in healthcare has been well known for some time – from the hospital patient's clipboard at the end of their bed, to population data on a range of issues. Over the past couple of decades, health data has exploded, and we now have access to more data than ever before.
Some data is freely available, such as the datasets on the Australian Institute of Health and Welfare website. Other data is a bit more sensitive and only available under privilege.
Public health professionals need to be able to assess and manipulate data to make data-driven decisions. It's also important to be able to visually display data in a way that can be understood by colleagues and members of the public.
Management
Many public health and environmental health roles sit on the management level of the organisation chart. 
Management skills are required at this level to manage staff and teams directly. You may also find yourself engaging with other organisations, non-profits and government agencies on behalf of your service.
Outside of executive roles, management skills may be required in the evaluation of programs and organisations.
Cultural awareness and cultural competency
Cultural awareness is an understanding that there is diversity in cultures across the population. Cultural competency goes beyond this understanding to influence the way that systems and organisations operate across cultures.
Cultural awareness was what motivated BreastScreen Victoria to establish a culturally safe environment for Aboriginal women to access breast screening services. By introducing hot pink testing vans with warm screen-friendly shawls, the organisation improved its cultural competence.
Soft skills
There is a suite of soft skills, including critical thinking, teamwork and communication that are essential to almost all jobs, but particularly roles in public health. While each individual skill is important in its own right, together they amplify the effectiveness of each other.
"Public health practitioners need to have critical thinking skills to appraise evidence and make evidence-based decisions," says Professor Sibbritt.
"Teamwork is essential as public health professionals always work in teams, whether they are responding to emergencies and crises or developing long-term prevention strategies.
"The communication process requires interpersonal skills, the ability to listen, communicate and negotiate, and effective leadership."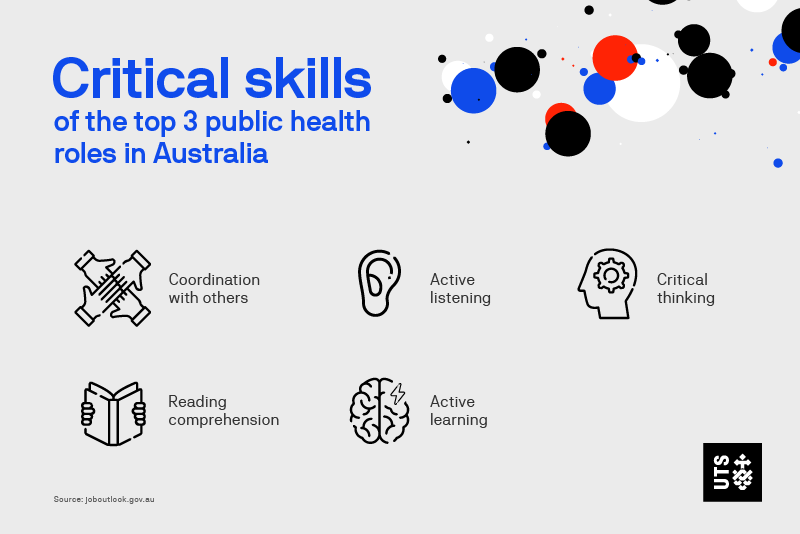 Leadership
Leadership is another soft skill that is often thought of as an innate ability. However, leadership is a soft skill that can be learned.
Separate from management, leadership is the ability to influence others to take a particular course of action. 
In public health, you might apply leadership skills to influence colleagues to change behaviours or apply new or different techniques. Often, it's less about telling and more about listening, empathising and understanding.
Leadership skills can also be applied in a broader sense to influence public health policy development, whether that policy applies to an organisation, a municipality, a state, the nation – even global health.
Myth 3: Public health isn't for everyone
"One of the best aspects of a Master of Public Health is the diversity of its students who come from fields such as psychology, nursing, medicine, exercise science, sociology, economics and more," reveals Professor Sibbritt.
Victoria's Commander of the COVID-19 response is probably the highest-profile public health professional in Australia without a medical or health sciences background.
Jeroen Weimar came to the Department of Health from Public Transport Victoria. A graduate of the London School of Economics, Weimar previously worked for Transport for London and UK Bus.
While some may think that you must be working as a health professional or in health systems before moving into a role in the public health field, Weimar is proving them all wrong. No doubt his role relies heavily on his skills in management, analytics, cultural awareness, leadership and other soft skills.
"Teamwork and collaboration, as well as interpersonal and communication skills are crucial for studying and working in such an interdisciplinary field," says Professor Sibbritt.
Myth 4: Public health jobs are limited
Even before COVID-19 reared its spiky head, research by Seek revealed huge job growth in the health sector. With an ageing population, healthcare was the fastest growing industry in 2017.
Since then, we've also had a royal commission into aged care quality and safety that delivered a number of recommendations, which are likely to increase demand for public health professionals.
A quick search for 'public health' on Seek reveals that there is no shortage of public health jobs available. While many of these jobs fall into the categories of health promotion officer or administration, there's almost no limit to the variety of roles available in public health.
Saskia Popescu is an American public health professional who's managed to combine several specialist public health jobs into one career. Popescu is an infectious disease epidemiologist, infection preventionist and medical writer, not to mention a public health academic.
While Popescu began her academic career with a Bachelor of Arts, it seems she's always had a calling for public health. Her senior thesis for her undergraduate degree looked at the role of infectious disease in the fall of the Roman Empire.
Myth 5: A career in public health requires minimal understanding of data
Whether you're considering a role as an epidemiologist, NGO manager, researcher, health policy advisor, community health worker or any other role in public health, you are likely to be working with data more and more. And while COVID-19 has highlighted the power of data in public health, the importance of data analysis goes far beyond pandemics.
For example, at the age of 22, Jay Caruso put his paramedic studies on hold to join the surging workforce of contact tracers responding to the COVID-19 pandemic. He's now working with a Salesforce technology platform that uses data from geolocations to map people, places and times. 
Mr Caruso's first job in public health requires more than a minimal understanding of data. 
How a public health degree can fast-track your career
UTS Online has crafted a Master of Public Health with customisable options to fast-track your career into your desired public health specialisation. This master's in public health covers all of the relevant skills for a range of career options in public health.
All you need is a bachelor's degree (or at least five years of work experience in the health sector) and a preferred postgraduate career path to follow.
The data analytics major is built for those who want to capitalise on the great potential that interoperable data presents. You'll develop advanced skills in biostatistics, epidemiology and data visualisation.
The Master of Public Health degree also provides options for specialising in health services management and leadership.
If you're not quite ready for a master's degree, or are seeking even more specialisation, the associated graduate certificate offers specialisations in health analytics and communicable disease.
To learn more about the online Master of Public Health, get in touch with our Enrolment Advisors on 1300 477 423.