6 careers in psychology that are outside the box
Australia's need for mental health services has never been greater. Yet the availability of professionals to provide them is lacking. Beyond the scope of traditional careers in psychology that one might think of, many jobs would benefit from this type of education. 
A Graduate Diploma in Psychology is a diverse program applicable to many disciplines, including business management, education and healthcare. And as the importance of mental health and an understanding of psychology is only increasing in Australia, upskilling is vital. 
If you want to solidify your place in the future of work, learn how a background in psychology can make you indispensable. 
The importance of careers in psychology 
Mental health services have always been essential to a functioning society. But as the COVID-19 pandemic emerged, it became clear that we needed more people to deliver them. Professionals with social, emotional and advanced cognitive skills are in high demand, and Australia is calling out for them. 
According to the Australian Psychological Society (APS), the most common issues presenting during and after the pandemic were depression, anxiety and stress. 
BMC Public Health found the mental health of Australians started to decline in early 2020, just as the pandemic began. The most affected were young people, financially disadvantaged persons and those with pre-existing mental health conditions. These groups all reported an adverse change in their mental wellbeing. 
In May 2021, the Australian Bureau of Statistics (ABS) found that 19 per cent of Australians reported a mental health state that was 'worse' or 'much worse' than in March 2020. This pressure worsened as the pandemic progressed and our country experienced more lockdowns and COVID-19 cases with no sign of relief.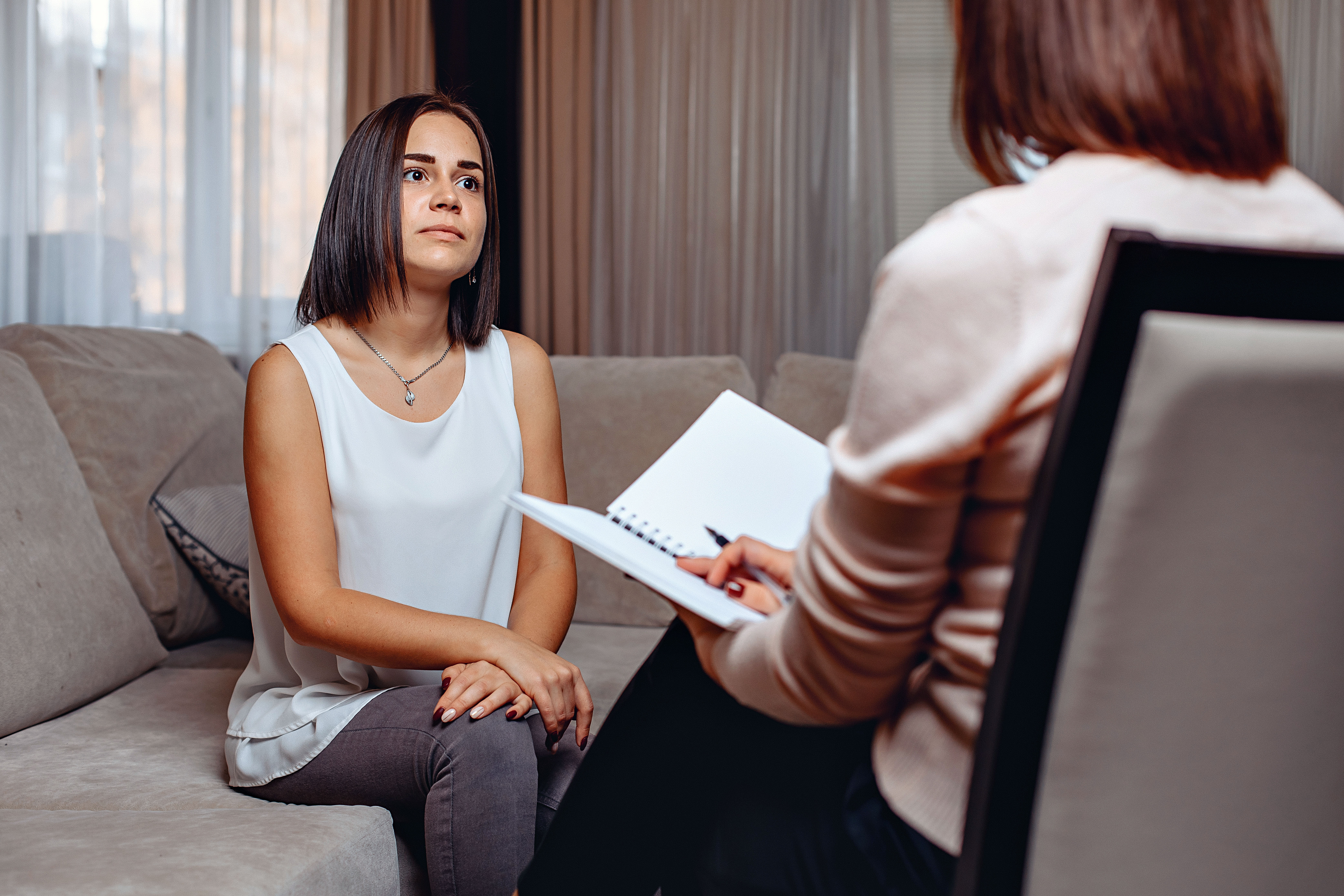 Is psychology a good career in Australia? 
With a decline in our mental wellbeing, the availability of psychologists and other mental health professionals in Australia decreased. 
Before the pandemic, the APS surveyed its members and found that only 1 in 100 psychologists couldn't take on new patients. Now, that number is 1 in 3. 
This shortage of psychologists and other professionals who treat mental health highlights a desperate need in Australia. Our country, and the world, need people with an understanding of psychology like never before. And this is not just for those in a clinical setting but across all professions and industries. 
Pursuing a study path in psychology is a smart move, especially in Australia. Better still, it's easy to balance study, work and life like never before thanks to online programs. 
An understanding of psychology and relevant education can help the wider community, the individual and the profession.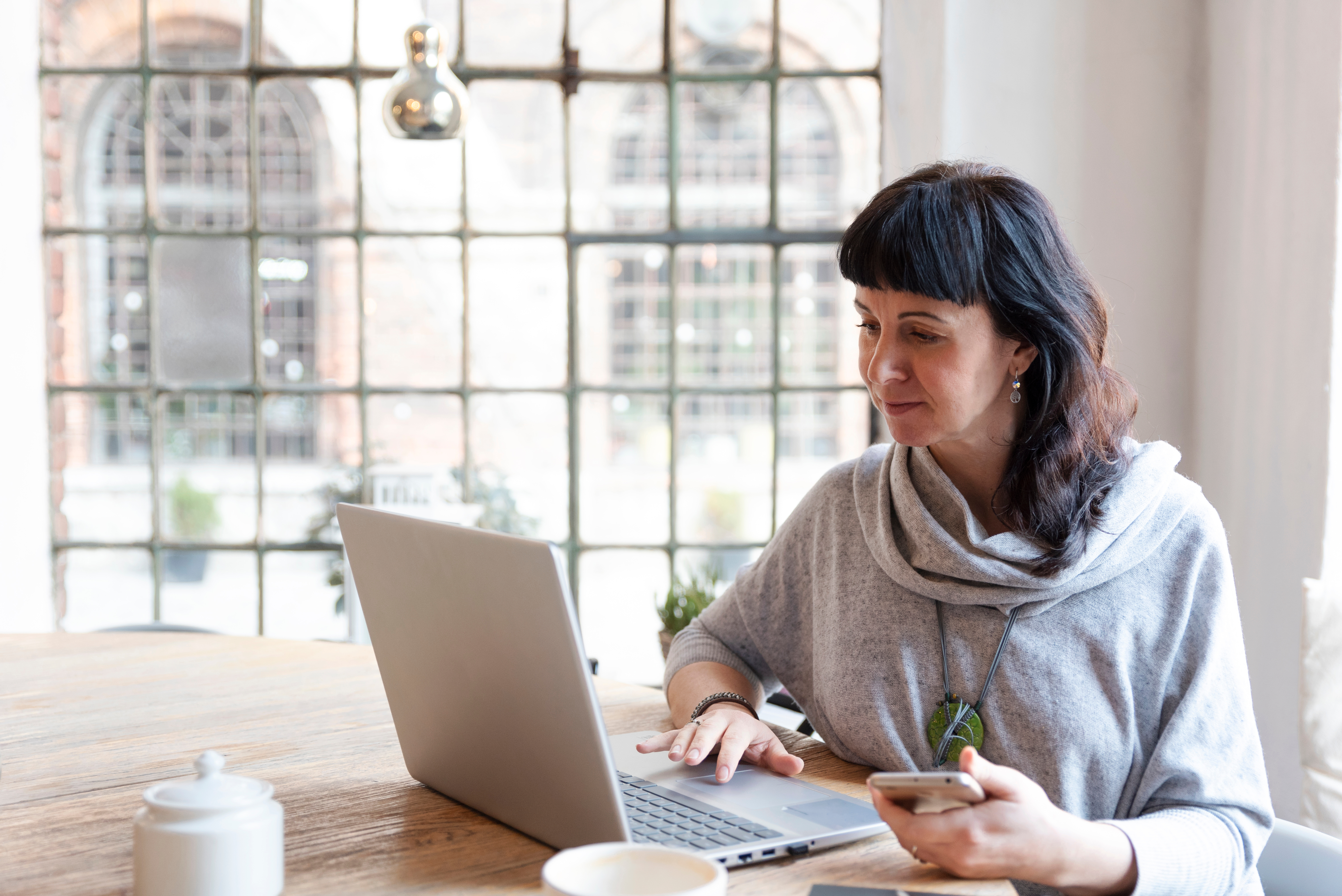 What jobs can you get with a psychology degree? 
So, what careers can psychology lead to? Aside from traditional roles like psychologist or counsellor, many non-clinical professions and outsider industries can benefit from this type of education. 
Consider these careers in psychology that don't necessarily fit the norm but can benefit greatly when the principles of psychology are applied. 
1. Business management 
Business managers work across all industries and are responsible for a business's administrative and financial control at a high level. Their duties can include overseeing the day-to-day running of a workplace, managing financial plans and budgets, ensuring compliance and attending to organisational matters.  
According to Seek, an Australian business manager earns between $95,000 and $105,000. 
Managing a business or leading a team is a role that involves high levels of human interaction. A good business manager needs strong social, emotional and advanced cognitive skills to lead a team successfully.  
From dealing with interpersonal and organisational problems to motivating staff and communicating with various stakeholders — understanding the human psyche is invaluable for managers. 
2. Marketing and public relations 
The marketing and public relations (PR) industry works with communication and promotional skills. These are used to influence decisions, as well as communicate with, sell to, and manage the opinions of the public or specific groups. 
An entry-level marketing and public relations career will earn you around $70,000, and for a marketing manager, upwards of $100,000. Given the gamut of roles and responsibilities, salaries will vary. 
Many positions in the PR and marketing business use psychological principles. Public relations, media relations, content creation, event management, media advisory and financial communications are just a few areas you can work in. 
Marketing psychology is a branch of psychology that explores the way consumers think, feel and make decisions. If you can understand people, you'll be better equipped to appeal to their emotions and needs, which is instrumental in marketing. 
3. Sports performance 
There are clinical and non-clinical roles in sports performance that could apply psychological principles like sports psychologists, personal trainers and sports coaches. Their duties can include training individuals or teams, improving physical form and helping people to reach physical fitness goals. 
An experienced sports psychologist can earn between $50,000 to $75,000 in Australia. Non-clinical psychology roles like personal trainers and coaches make varying amounts, depending on their client base and experience. 
Using the principles of psychology, professionals in this industry can help to improve motivation, gain focus and develop teamwork values. 
4. Healthcare 
The healthcare industry consists of public and private healthcare workers who offer their services to patients and the community. These services include treatment, prevention and diagnosis, along with the cure of illness, disease and injury, both physical and mental. 
Salaries can vary depending on factors like clinical settings, location, experience and assigned duties. 
From registered nurses, enrolled nurses, midwives, paramedics, physiotherapists and doctors — a healthcare career is complemented by an education in psychology. Even if you're dealing primarily with physical health, the mind-body connection in healthcare is imperative for managing, assisting and caring for patients of all backgrounds. 
The future of healthcare will also see the creation of many more new roles and demand for interpersonal skills is set to increase with Artificial Intelligence (AI) replacing labour-intensive responsibilities.     
5. Education and training 
Educational psychology focuses on learning and development and careers can include teaching at preschool, primary school and high school levels, working in adult and community education, or working as career counsellors.  
Although it is a specific branch of psychology, it shows how valuable these principles are when applied to any profession in education and training. 
The salaries in the education and training industry can vary depending on the role. According to Payscale.com, the average salary of an educational psychologist is $85,000. 
It's very common to apply psychological principles to teaching. These principles are implemented to improve motivation in students, to enable educators to adopt more effective learning styles, and to guide and mentor those in need. 
6. Information technology (IT)
Professionals in IT work with systems to create, store, process and exchange data and information. 
According to Seek, the median salary for an IT specialist in Australia is $70,000. Whatever salary band you may be interested in, there are many different roles within this industry to pursue.  
Careers in IT that would benefit from having a Graduate Diploma in Psychology include artificial intelligence developers, data scientists, support specialists, software developers, quality assurance testers and systems analysts. Their duties include troubleshooting and fixing computer issues, developing programs and applications, analysing systems, and solving technological business problems. 
The role of psychology in IT has become prominent recently, focusing on user experience and how people connect with technology. As a growing industry, we'll likely see a more significant emphasis on this relationship.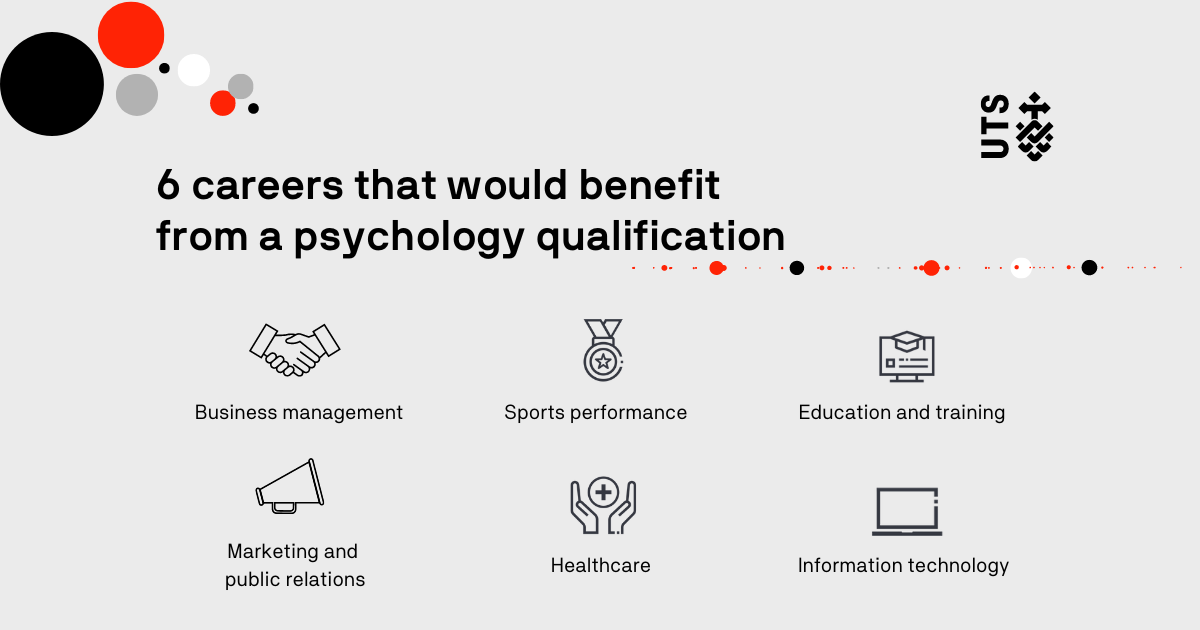 The benefits of studying for psychology career paths 
A Graduate Diploma in Psychology is a popular educational path for many reasons. There are numerous benefits for those looking to work in mental health services or gain an understanding of psychology for other professions. 
A versatile skillset 
Dr Phoebe Bailey is an Associate Professor of Psychology and course director at the University of Technology Sydney (UTS). She says the Graduate Diploma in Psychology can give students "advanced knowledge and a range of transferable skills that are attractive to employers across diverse industries." 
Future-proofing your career 
"In the next ten years, employers will increasingly demand technological, social and emotional — as well as advanced — cognitive skills," says Dr Bailey. 
These skills are vital outcomes for the Graduate Diploma in Psychology offered by UTS, regardless of your profession. They future-proof your career and ensure your skillset will be valuable now and in the future. 
Enhanced employability 
A Graduate Diploma in Psychology can be studied online through UTS, with in-demand outcomes for every student. 
Dr Bailey is confident that the diploma will equip students with a unique workforce literacy and skills toolkit that will enhance their employability. And they'll see an improvement in their prospects — not just in the fields related to psychology but also in other professions and industries. 
Flexible study options 
The study options available today through UTS offer even greater flexibility. Online learning allows students to learn anywhere from any device, at any time. This means you can learn around your existing schedule with a manageable workload. 
UTS makes it possible to complete a Graduate Diploma in Psychology online in as little as 20 months. You'll be prepared to enter the future of work with valuable skills and an education in psychology that's versatile enough to apply across all industries.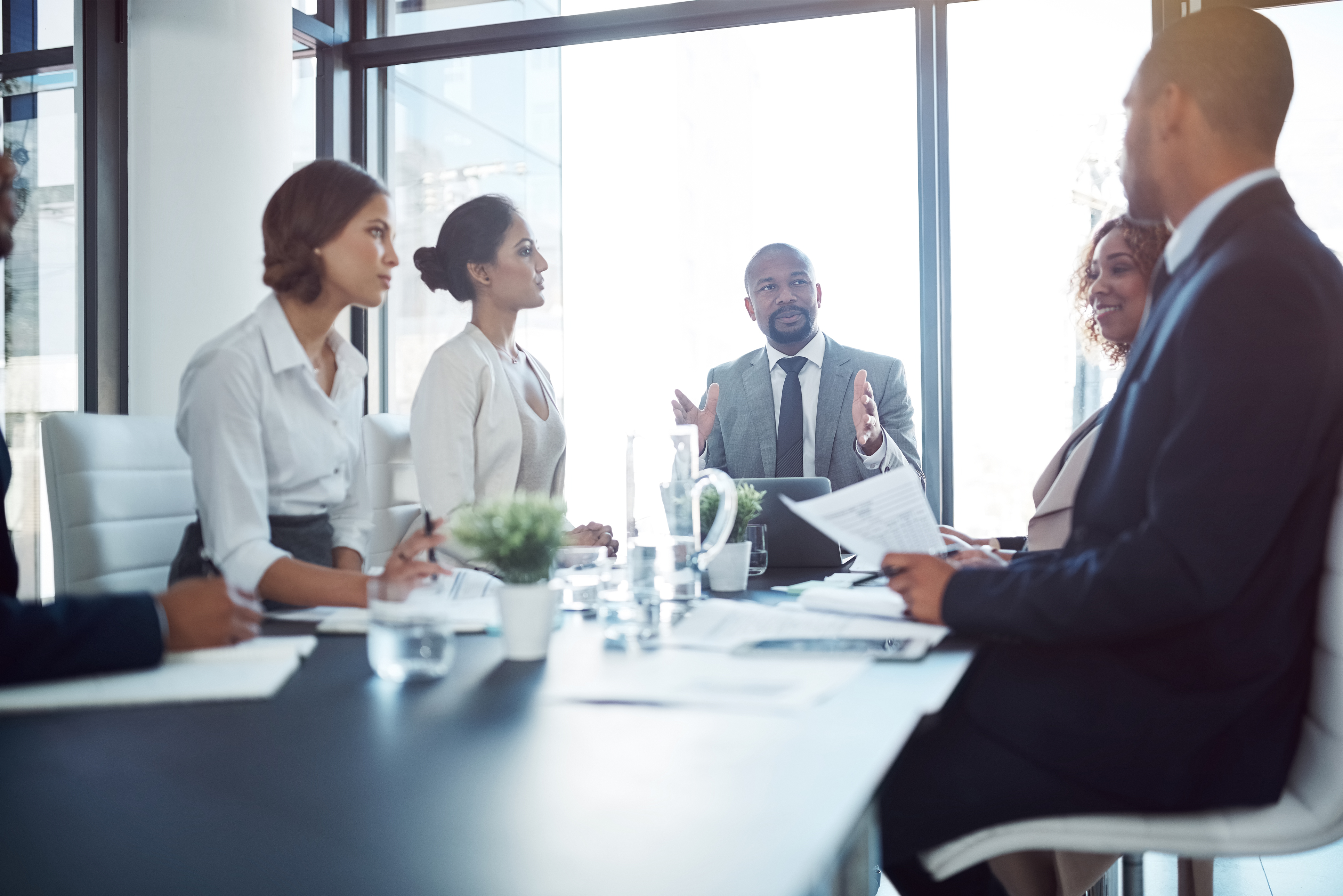 Get yourself in demand 
Having an education in psychology will make you a desirable candidate in many industries, not just the quintessential ones. Whether you choose a traditional career as a psychologist or an occupation that simply utilises the principles, the demand for qualified professionals is undeniable. 
Studying for a Graduate Diploma in Psychology will prepare you for the current landscape and future of work. If you're interested in learning where a Graduate Diploma in Psychology from UTS could take your career, see the course page for more information.